Martha Rosa Chappell was an older sister of my husband's 2nd great-grandfather, William Christopher Chappell, and I've found her story fascinating as she is never quite where one would expect her to be.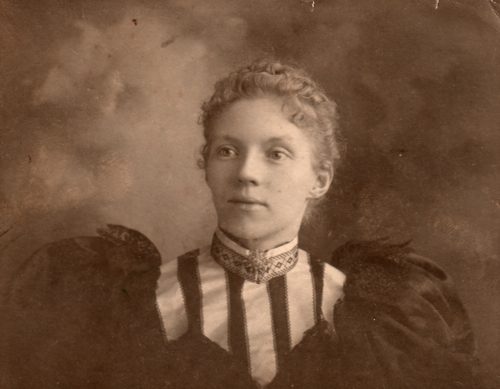 Martha was the fourth child of Edwin Chappell and Harriet Oaten,2 and was born in Bath, Somerset England on March 26th 1867.
And now the journey begins…
At the age of four she was enumerated at her uncle's house at 13 Bear Yard in Westminster, London. Why was she living with her father's brother? Was she merely visiting? Was she taking in the culture of London? Was she sent to London for a better education?

John Chappell, Head, Married, Male, 44, Shopman/Tripe Dresser, born Bath, Somerset.
Mary A Chappell, Wife, Married, Female, 44, born St Andrew Holborn.
John Chappell, Son, Unmarried, Male, 21, Butcher, born St Giles in Fields.
Mary Ann Chappell, Daughter, Unmarried, Female, 19, born [blank].
Harry Chappell, Son, Male, 15, born Chelsea.
Joseph Chappell, Son, Male, 12, born St Clement Danes.
Rosey Chappell, Niece, Female, 4, born Bath, Somerset.

By the 1881 census she's moved back to Bath, this time living with her maternal grandparents, William Oaten and Harriet Bolt at their home at 4 Burlington Street in Walcot. At this point she was 14 years old and working as a servant, which was very common for girls of that age. As her grandparents were running a lodging house, she may even have been working for them.

William Oaten, Head, Married, 71, male, Lodgings housekeeper Waiter [Inn Serv written over], born Taunton, Somerset.
Harriet Oaten, Wife, Married, 68, born Sidmouth, Devon.
Adeliza Oaten, Granddaughter, 23, Unmarried, Neeedlewoman, born Bath, Somerset.
Rose Chappell, Granddaughter, 14, Domestic Servant General, born Bath, Somerset.

Martha Rosa married William Seaborne, the son of an Innkeeper, at St Werburgh church, in Bristol, Gloucestershire on November 4th 1886.6 William was a sculptor, and the couple immigrated to the United States shortly after their marriage. They lived first in Ohio, then moved to Michigan before the birth of their youngest child.7
William and Martha Rosa had three children:
Minnie Seaborne (b. Oct 1887, Cleveland, Ohio, USA)8
Mabel Seaborn (b. Dec 1889, Fremont, Ohio, USA)9
Ada Seaborne (b. Aug 1893, Michigan, USA)10

Tragedy struck the family when Martha Rosa died of pneumonia on March 4th, 1897,11 only a few weeks shy of her 30th birthday, leaving her husband and three young daughters to mourn her loss.
Her husband William never remarried.12 He continued to raise his daughters on his own whilst working as an artist. The family later moved to Pennsylvania,13 New Jersey,14 then to New York15 as William Seaborne followed his artistic passions.
52 Ancestors in 52 Weeks is a blogging prompt started by Amy Johnson Crow at No Story Too Small. My stories will include both sides of our family, including collateral lines.
Copyright ©2015, Chriss Coleman