When I look at the records for Harriet Bolt, my husband's 4th great-grandmother, I wonder how she felt. Record after record showed she lived most of her adult life on her own, raising her children without her husband at her side. Whilst she was not financially trying to make her way through the world as a single woman, she certainly lived the life of a single mother.
Harriet Bolt was born in Sidmouth, Devon, the daughter of Christopher Bolt and Sarah Perriman, and was baptised at the local Anglican church on April 26th, 1812.1 She grew up in Sidmouth, along with her siblings. This was also where she met her future husband, William Oaten.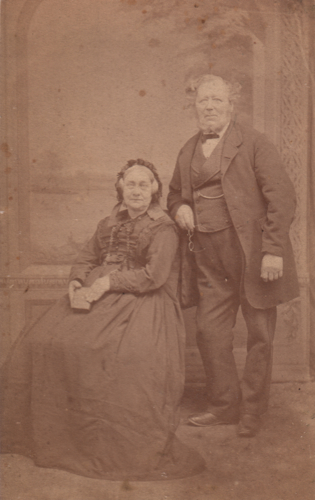 I do wonder how they met. Were they living in the same neighbourhood? Or perhaps (and a likely possibility), were they both working as servants in the same household? We know that William was a servant, however little information is available on Harriet until their marriage on September 4th 1832,3 and the birth of their first child 4 months later.4
From the records we can tell that Harriet did follow her husband as he moved around to the various households he served.5,6,7 In fact, most of the time she lived within the same civil parish as her husband. Many women married to servants would often have lived 10, 20 or 30 miles from their husbands in locations where the cost of living was less expensive. Even though he was close, how often did she really get to see her husband? Running a household essentially on her own must have made her a strong and independent woman, both in terms of the daily needs of her family and her emotional state.

Harriet Oaten, Wife, Married, female, 49, Servant's Wife, born Sidmouth, Devon.
Elizabeth Oaten, Daughter, Unmarried, female, 19, Dressmaker, born Bath, Somerset.
Clara Oaten, Granddaughter, female, 8, Scholar, born Bath, Somerset.

The four known children of William and Harriet (Bolt) Oaten are:

When her children grew up, Harriet became a lodgings housekeeper — taking in lodgers at her home at 4 Burlington Street in Walcot. She also took in her grown daughter, and even her grandchildren at various points over the course of her life.

Harriet Oaten, Head, Married, female, 59, Lodging House Keeper, born Sidmouth, Devonshire.
Clara Oaten, Daughter, Unmarried, female, 17, Dressmaker, born Bath, Somerset.
Adelina Oaten, [grand]Daughter, Unmarried, female, 15, Dressmaker, born Bath, Somerset.

William and Harriet lived out their golden years together, something that was foreign to most of their married life. After William retired from his life as a butler, he joined his wife at their residence in Walcot where the family continued to take in lodgers.14,15
Harriet predeceased her husband by seven days, passing away at her home at 4 Burlington Street on March 7th, 1894, at the age of 81.16

Harriet Bolt is my husband's 4th great-grandmother. Our ancestral line:
7. Harriet Bolt (c.1812-1894)
6. Harriet Oaten (1840-1914)
5. William Christopher Chappell (1869-1941)
4. Rosemary Cecelia Chappell (1900-1985)
3. James Francis Walsh (1931-2001)
2. My husband's mother (living)
1. My husband (living)

52 Ancestors in 52 Weeks is a blogging prompt started by Amy Johnson Crow at No Story Too Small. My stories will include both sides of our family, including collateral lines.
Copyright ©2015, Chriss Coleman