Born on 13 Jun 1874,1 Nina Alberta Bishop was part of a large business- and civic-minded family. Her father, John Bishop, was not only a business man but managed many civic duties for decades2 whilst his wife, Maria Davey, raised Nina and her eight siblings. The family was a member of St Mark's Anglican Church, Niagara-on-the-Lake.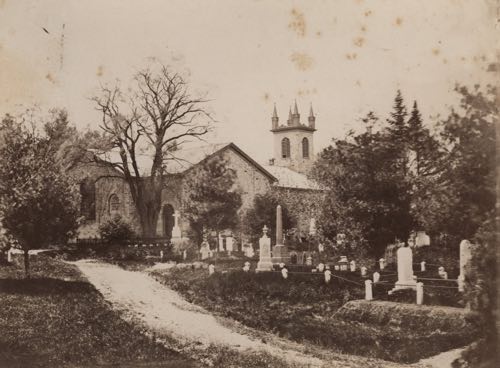 Nina, like most Canadian children, was formally educated throughout her childhood. At the age of 19, she married Arthur Herbert Walsh,4 a young man from another Niagara business- family who lived just down the street.5 It was likely that the families knew each other well, and even did business with each other. In addition, Nina's cousin Charlie Bishop played hockey with Herb's brother Frank Walsh on the local Niagara team.6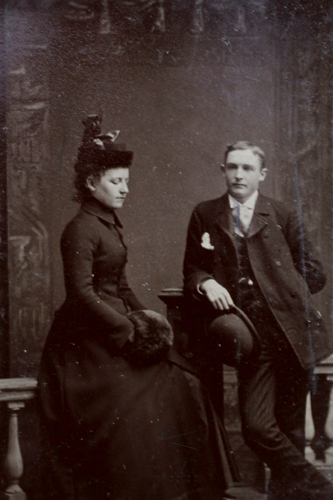 Nina and Herb had six children: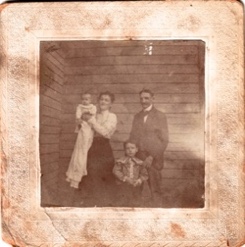 In June of 1931, Nina fell ill for several weeks. Her illness was not considered serious until things took a turn for the worse and she came down with pneumonia on July 19th. She was under medical supervision, but Nina succumbed to her illness, passing away on the 23rd July 1931 at the Niagara Cottage Hospital.21
Two death announcements appears in the local Niagara Evening Review paper, as well as two announcements in the Canadian Section of the Niagara Falls Gazette in nearby Niagara, New York.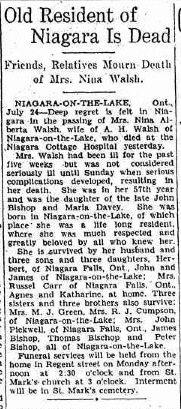 Old Resident of Niagara Is Dead, Friends, Relatives Mourn Death of Mrs Nina Walsh – Niagara-on-the-Lake, Ont., July 24 – Deep regret is felt in Niagara in the pasing of Mrs Nina Alberta Walsh, wife of A.H. Walsh of Niagara-on-the-Lake, who died at the Niagara Cottage Hospital yesterday.

Mrs Walsh had been ill for the past five weeks but was not considered seriously ill until Sunday when serious complications developed, resulting in her death. She was in her 57th year and was the daughter of the late John Bishop and Maria Davey. She was born in Niagara-on-the-Lake, of which place she was a life long resident, where she was much respected and greatly beloved by all who knew her.

She is survived by her husband and three sons and three daughters, Herbert of Niagara Falls, Ont., John and James of Niagara-on-the-Lake, Mrs Russell Carr of Niagara Falls, Ont., Agnes and Katharine, at home. Three sisters and three brothers also survive: Mrs M.J. Green, Mrs R.J. Cupson, of Niagara-on-the-Lake; Mrs John Pickwell of Niagara Falls, Ont., James Bishop, Thomas Bishop and Peter Bishop, all of Niagara-on-the-Lake.

Funeral services will be held from the home in Regent street on Monday afternoon at 2:30 o'clock and from St Mark's church at 3 o'clock. Interment will be in St. Mark's cemetery.
Nina was buried in St Mark's Anglican Cemetery – the same cemetery that her parents and siblings attended.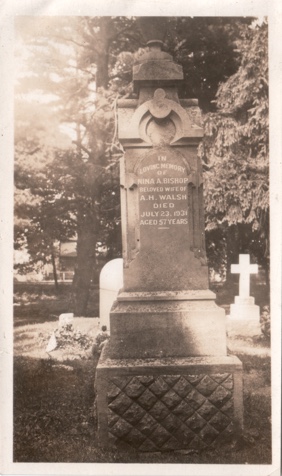 Nina Alberta Bishop is my husband's 2nd great-grandmother. Our ancestral line:
5. Nina Alberta Bishop (1874-1931)
4. Herbert Lawrence Walsh (1895-1969)
3. James Francis Walsh (1931-2001)
2. My husband's mother (living)
1. My husband (living)
52 Ancestors in 52 Weeks is a blogging prompt started by Amy Johnson Crow at No Story Too Small. My stories will include both sides of our family, including collateral lines.
Copyright ©2015, Chriss Coleman