Well, everyone needs to start somewhere, or in some cases, start again. I gave up my Ancestry subscription shortly after moving to Canada due to lack of time. Since then, I really haven't dedicated a lot of time to genealogy. I'd visit a library here and there, order some microfilms, take some gravestone photos, but without an easy way to navigate records online, I wasn't filling out my tree. When I ended my subscription, I had hoped that I would start dealing with the vast amount of scans and photos I had accumulated, but without being able to cross check records, it became a bit tedious. And it certainly made it difficult to keep my blog running.
I really enjoyed doing the 52 ancestors challenge, so I had a look and noticed that Amy Johnson Crow was running it again this year, so I signed up. This week's theme is 'Start'. My goal isn't to do highly in-depth posts like I have in the past, but just to get a little something out there every week if I can. Why? Well, let me introduce you to Simon Walsh.
Simon Walsh was born in Ireland sometime around 1785,12 and he's the oldest known ancestor on my husband's Walsh line. I have absolutely no primary documentation on this man. Most of the documents that have him named are in relation to his off-spring. Unfortunately, the marriage records do not go back far enough, nor do the immigration records. He appears on one census, on his children's records, in a couple of family wills, and on his gravestone. Even the church burial records have a gap of several years that coincide with his death.
I knew that his gravestone existed because some kind soul from the Niagara division of the OGS had taken a photo, transcribed it, and posted it in 2011. Whilst I was in the vicinity this past summer, I took the opportunity to visit several of the cemeteries in Niagara-on-the-Lake. One of the stones that I found was Simon Walsh's, and I was rather sad when I saw it. In the 6 years since the photo was posted online, nature had taken over, and the stone is now mostly unreadable. In a few more years it might not even be visible. This is what it looks like as of 23 August 20173 (with the online transcription).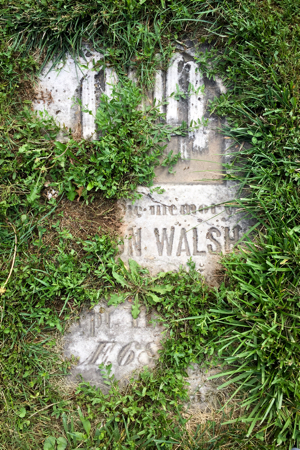 So, as much as we see new records popping up on-line constantly, it is good to remember that as time goes on, some records fade out of existence.
Simon Walsh is my husband's 4th great-grandfather. Our ancestral line:
7. Simon Walsh (abt. 1785-1853)
6. James Walsh (1829-1895)
5. Arthur Herbert Walsh (1869-1947)
4. Herbert Lawrence Walsh (1895-1969)
3. James Francis Walsh (1931-2001)
2. My husband's mother (living)
1. My husband (living)
52 Ancestors in 52 Weeks is a blogging prompt started by Amy Johnson Crow. My stories will include both sides of our family, including collateral lines.
---
"1851 Census of Canada", database and digital image, Ancestry (http://www.ancestry.com : accessed 11 Jun 2014), entry for household of Simon Welsh, Niagara, Lincoln; roll C-1736, Ontario, district 22-Lincoln, sub-district 210-Niagara, page 111, lines 2 to 5. ↩

"Canadian Headstones", indexed database, Canadian Headstones (http://www.canadianheadstones.com/view?id=144126 : accesed 5 Jan 2018), memorial page for Simon Walsh ( -1853), created by Niagara OGS, citing St Vincent de Paul RC Cemetery, Niagara-on-the-Lake, Lincoln, Ontario, Canada. ↩

St Vincent de Paul Roman Catholic Cemetery, Niagara-on-the-Lake, Ontario, Simon Walsh marker, 43°15'14" N 79°4'3" W; personally read by Chriss Coleman, 23 Aug 2017. ↩
Copyright ©2018, Chriss Coleman