William Oaten's family had lived in what is now known as the Taunton Deane district of Somerset for generations, however, this young man moved beyond the confines of his parish, county, and even country, over the course of his life.
He was the eldest son of Joseph Oaten and Elizabeth Toller, and was baptised at the All Saints church in Trull on July 16th 1809.2 Whilst his parents stayed in Trull for the remainder of their lives, William went further afield and was working as a servant in Sidmouth, Devon when he met his future wife.
William Oaten and Harriet Bolt were married after banns on September 4th, 1832 at the parish church in Sidmouth, Devon.3 Their first child, William, was baptised four months later at the same church.4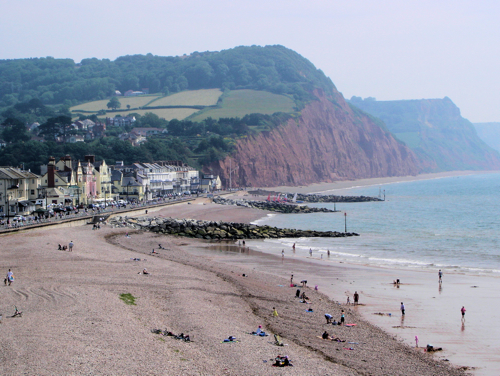 Their movements are not clear for a number of years, at least not until his wife gave birth to a daughter, Harriet, in Boulogne, France in 1840.6 Whether or not they had other children between 1833 and 1840 is unknown.
The Oaten family returned to England by 1841, where William was occupied as a servant in Walcot, Bath, Somerset.7

William Oaten, 30, male, M.S. [Male Servant], born in Somerset
Meanwhile, his pregnant wife and their two children, William and Harriet, were living in the nearby area of Lansdown.8
There are four known children of William and Harriet (Bolt) Oaten:

William spent most of his working life living apart from his family, as is shown in the various censuses. As a butler, he held a prominent position that required him to be available at the home of his employer the majority of the time. He did, however, work for several families over the course of his life, including William Macadam of Gay St,13 William Hudleston of Harley House,14 William Jervois of Porlland Place, 15 and Joseph Elliot of Marks Hall.16
It wasn't until the 1881 census that we find William living with his family, and occupied as an inn servant. Whilst his children have moved out, he is now living with his wife and two of their granddaughters — William's daughter Adeliza Oaten, and Harriet's daughter Martha Rosa Chappell — at 4 Burlington Place, Lansdown, Walcot, Bath.

William Oaten, Head, Married, 71, male, Lodgings housekeeper Waiter [Inn Serv written over], born Taunton, Somerset
Harriet Oaten, Wife, Married, 68, born Sidmouth, Devon
Adeliza Oaten, Granddaughter, 23, Unmarried, Neeedlewoman, born Bath, Somerset
Rose Chappell, Granddaughter, 14, Domestic Servant General, born Bath, Somerset
By 1891, Wiliam was running a Lodging House on his own account. The family was still living at 4 Burlington Street in Lansdown, this time with their unmarried daughter Martha, and their granddaughter Adeliza.
William Oaten, Head, Married, 82, male, Lodging House Keeper, on own account, born Taunton, Somerset
Harriet Oaten, Wife, Married, 80, female, born Sidmouth, Devon
Martha Oaten, Daughter, Single, 48, female, working on own account, born Bath, Somerset
Adeliza Oaten, Granddaughter, Single, 30, Seamstress, on own account, born Disk [Diss], Norfolk

William died in his home at 4 Burlington Street on the March 14th, 1894, exactly one week after his wife's passing. Their obituaries were published in tandem in the Bath Weekly Chronicle.19 William was 84 years old.20

However, it was what I discovered after doing my research about William Oaten that made me happiest. Whist visiting relatives in the autumn, I was scanning through various family documents, as you do, when I came across not just one, but two photos of William Oaten and his wife Harriet Bolt. One is an obvious photographic copy of the other.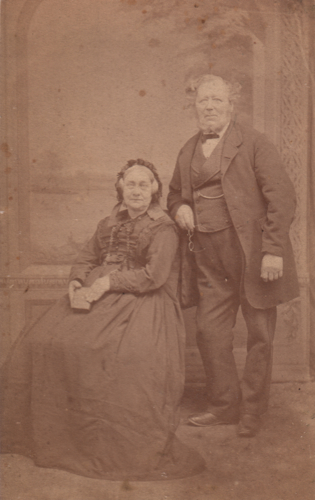 After comparing other handwriting samples, I am quite certain that the writing on the reverse of the copy it that of William Christopher Chappell.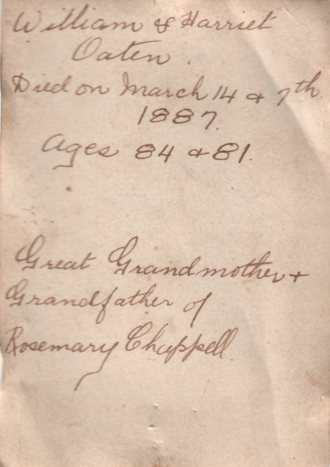 The copy reads:
William & Harriet Oaten
Died on March 14 & 7th 1887 [year incorrect]
Ages 84 & 81
Great Grandmother & Grandfather of Rosemary Chappell

The original photograph also had an interesting detail on the reverse:

This is an original obituary glued to the reverse of the photo, and based on the text it was printed in one of the local Bath papers, however not The Bath Chronicle — a digital copy of which appeared above. The obituary reads:
March 7th, at 4. Burlington-street, HARRIET, wife of WILLIAM OATEN, ages 81; also, March 14, at 4, Burlington-street, WILLIAM OATEN, ages 84, husband of the above.
I love it when family documents found after the fact validate my research efforts. And more than anything, finding a photo I never knew existed.
William Oaten is my husband's 4th great-grandfather. Our ancestral line:
7. William Oaten (c.1809-1894)
6. Harriet Oaten (1840-1914)
5. William Christopher Chappell (1869-1941)
4. Rosemary Cecelia Chappell (1900-1985)
3. James Francis Walsh (1931-2001)
2. My husband's mother (living)
1. My husband (living)

52 Ancestors in 52 Weeks is a blogging prompt started by Amy Johnson Crow at No Story Too Small. My stories will include both sides of our family, including collateral lines.
Copyright ©2015, Chriss Coleman