When I went rummaging through for genealogical documents whilst visiting family this autumn, it was suggested that I start with a small writing desk. The desk was the one that William Christopher Chappell used whilst he served in the Royal Navy and it now contained many wonderful items of family history.
One of the most prized pieces I found was William Chappell and Elizabeth Farthing's copy of their marriage registry from 1898. As much as I could easily order a new copy of this certificate, it was something special to hold the certificate they received on the day of their wedding.
I excitedly looked over the document and continued scanning my way through the pile. It wasn't until I properly filed the document within my genealogy program that I noticed it contained a transcription error. It goes to show you that mistakes are made on transcriptions, even when the people in question are present.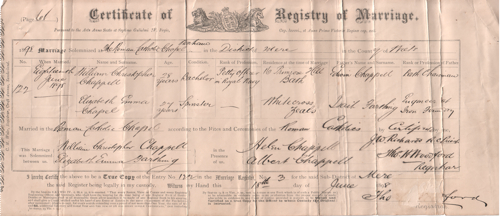 The original document says:
Page 61, Certificate of Registry of Marriage 1898, Marriage solemnized at The Roman Catholic Chapel Bonham in the District of Mere in the county of Wilts.
No. 122, Married 18 Jun 1898.


Groom's details:
Name and Surname: William Christopher Chappell
Age: 28 years
Condition: Bachelor
Rank or Profession: Petty Officer in Royal Navy
Residence at time of Marriage: 16 Primrose Hill, Bath
Father's name and surname: Edwin Chappell
Father's rank or occupation: Bath Chairman


Bride's details:
Name and Surname: Elizabeth Emma Chapel
Age: 27 years
Condition: Spinster
Rank or Profession: [blank]
Residence at time of Marriage: Whitecross, Zeals
Father's name and surname: Isaih Farthing
Father's rank or occupation: Engineer at Iron Foundry


This Marriage was Solemnized between us, William Christopher Chappell and Elizabeth Emma Farthing, in the presence of Helen Chappell and Albert Chappell. Thos H Woodford, Registrar.


I hereby certify the above to be a True Copy of Entry No. 122 in the Marriage Register No. 3 for the said Sub-District of Mere, the said Register being legally in my custody. Witness my Hand this 18th day of June 1898.
You can see the transcription error in this detail: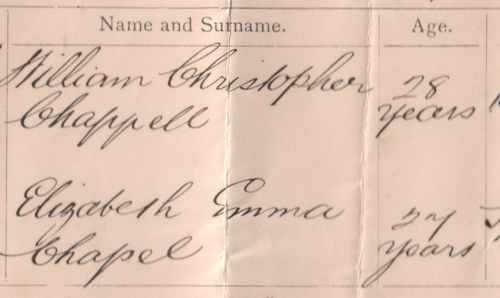 The bride's surname should have read "Farthing", not "Chapel". In the undersigned portion (not their actual signatures since this was a transcribed copy), it lists her name as Elizabeth Emma Farthing, which is what leads me to believe the earlier surname was indeed an error in transcription. I wonder how long it took before William and (Elizabeth) Emma realised this error.
There are two other minor errors. The first of which is also visible in that detail. Emma recorded her age as 27, a year younger than William. However, Emma was actually born in the year prior to William's birth… in fact, she was nearly 1 year and 10 months older than William. This, however, I'm not surprised at. Emma consistently fibbed about her age throughout her life. The only documents that show her correct age were generated when she was a child or much later in life.
The final error is a minor detail. From all the research I've done I've been able to conclude that her father's name was likely spelled "Isaiah", but I've seen quite a few variations of his name so he, like many of his contemporaries, was likely less than worried about how his name was spelled. This could also possibly be a transcription error, but without seeing the original registry it would be hard to confirm. Their original church record for their marriage was written in Latin.
The last thing that has always struck me about their wedding were the people who signed as their witness, Albert Chappell and his wife Helen. Albert, William's brother, and Helen, Emma's sister, were the reason that William and Emma met. It seems wonderfully fitting that they were the two who signed as witnesses.
---
Certificate of Registry of Marriage for William Christopher Chappell and Elizabeth Emma Farthing, 18 Jun 1898, registration district of Mere, Wiltshire, vol 3, page 61. [GRO index: Q2 1898, Mere, Wilshire, vol 5a, page 473] ↩
Copyright ©2014, Chriss Coleman