I deliberated for a while as to which relative(s) I should start with on this blog, until it suddenly it occurred to me that I couldn't start with anyone other than William and Elizabeth Chappell. They were the two that got me asking questions, interrogating family, and inevitably got me started in genealogy as I searched to find the truth behind the family stories (and annoy the relations). They are my husband's 2xgreat-grandparents.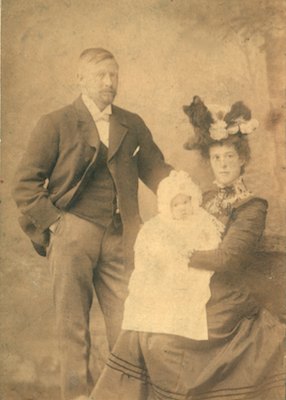 William C. Chappell was born on 29 Nov 1869, in Bath, Somerset, England. He was the son of Edwin Chappell and Harriet Oaten, and was one of 10 children to this couple.1 He lived in Bath until he joined the Royal Navy.

Elizabeth Emma Farthing, who often went by her middle name Emma, was born on 3 February 1868, at the family home on Castle Street in Mere, Wiltshire, and was the daughter of Isaiah Farthing and Sarah Hester Hart.2 Emma Farthing grew up in Mere, but as a young woman she travelled to continental Europe to teach English.
It wasn't until Emma returned to England for her sister Helen's wedding in 1898 that she met her future husband. Helen married Albert Chappell, William Christopher Chappell's brother. A few months later William Chappell and Elizabeth Farthing were wed at the bride's church in Gasper, Stourton, on the Wiltshire-Somerset border near Mere.
After their wedding, William and Emma removed themselves to Devon. On 27 July 1900, their daughter Rosemary Cecelia Chappell was born at their home in Ford, Devon.3 They were still living at the same residence when they were enumerated on the 1901 England Census.
William is enumerated as the head of household, 31, and occupied as a Petty Officer in the Royal Navy, alongside his wife Emma, and daughter Rosemary in Ford, Devonshire, England.
This was the first chapter of their lives together.
Copyright ©2014, Chriss Coleman