William Chappell spent more than 20 years of his life in the Navy, rising to the rank of Chief Petty Officer.1 Those years found him sailing all over the world — his four year voyage on the HMS Wild Swan alone netted him nearly 68,000 miles (or over 109,000km) under steam and/or sail. According to accounts written by his daughter about his naval career, he had many tasks for which he was responsible. These included teaching the cadets to swim, and teaching sails, rigging, and knots (in the early days of his career whilst they were still under sail power),2 among other duties
One of the things I found most fascinating is that during those years, one his tasks involved sewing. Whilst he was away at sea, he kept a sewing machine on board for sewing the sailing canvas and other items in need of fitting or repair. This machine recently came into our possession after a visit to my husband's grandmother.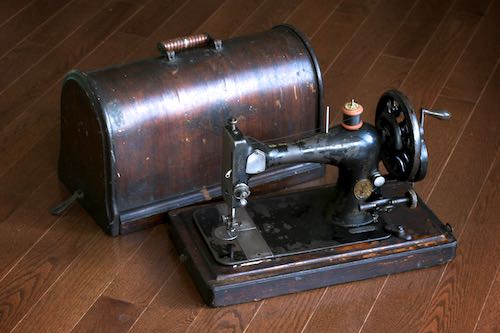 Based on the serial number, the machine was manufactured in 1893, whether William (or the Navy) bought it that year or later is unknown. From family stories, we do know that the machine travelled with William to South Africa during the Boer War.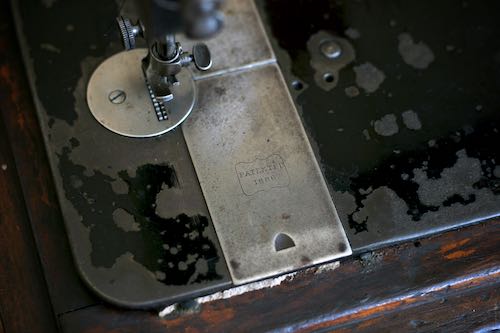 The machine is a hand-cranked machine, which would have been the only option other than hand sewing whilst out on the open sea — an option that probably save William many hours of work. Most of the gold decorative painting has been worn away over time — the original would have had a swirly frame of gold around the metal base, a decorative painted medalion in the centre under the arm, and similar gold filigree-styled touches on the majority of the machine.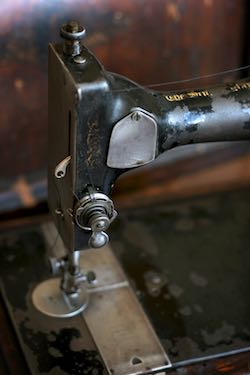 Most of the finish would have long worn away in the 122 years since she was manufactured, and this is not surprising: this wasn't a machine that sat in a parlour or sewed ladies' dresses occasionally. This was a machine that travelled the world and was exposed to the salty air of the open sea.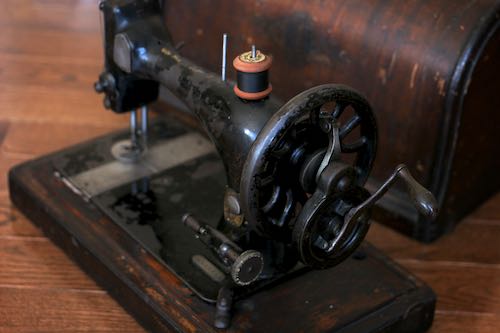 The machine still has its original wood case, and again, it is in about the condition you'd expect for a sewing machine that has travelled to most of the continents. In fact, given those circumstances, I think the machine is actually in amazing condition. Whilst it doesn't hold much — if any — monetary value, it does have a story.
William's sewing didn't stop at repairing sails, however. Whilst on board the aforementioned HMS Wild Swan, he embroidered an apron and entered it into a bazaar that the sailors held whilst stationed at Esquimault, near Victoria, British Columbia, Canada. The apron was black satin with embroidered lilacs, and the embroidery was done so well you could not tell the wrong side from the public side of the work. The apron won William a prize in the bazaar.4
When I think of Navy men, I don't think about them carrying sewing kits with them, let alone sewing machines. However, sewing kits take up very little room and could be an excellent distraction during their off-duty time during the many days (or months) off at sea. The sewing machine, on the other hand, likely made light work of some of the heavier sewing tasks that needed to be done aboard ship.
William Christopher Chappell is my husband's 2nd great-grandfather. Our ancestral line:
5. William Christopher Chappell (1869-1941)
4. Rosemary Cecelia Chappell (1900-1985)
3. James Francis Walsh (1931-2001)
2. My husband's mother (living)
1. My husband (living)
52 Ancestors in 52 Weeks is a blogging prompt started by Amy Johnson Crow at No Story Too Small. My stories will include both sides of our family, including collateral lines.
Copyright ©2015, Chriss Coleman