William Christopher Chappell had served with the Royal Navy his entire adult life, having joined up on his 18th birthday, 29 November 1887. Although he had originally signed on for 12 years, he continued his service by re-enlisting in November of 1898.
William served on many ships and sailed to many far-off lands, details of which I plan to write about in the future, and over the years he climbed the ranks (or ratings, as per the Navy) from a B2C – Boy 2nd Class – in the year and a half prior to his Navy enlistment to Chief Petty Officer in 1906.
I'm not sure what the impetus to leave the navy was, though I do have my theories based on family stories. Throughout his career he'd always received a VG – Very Good – conduct rating. However, the navy was hard work and kept him away from his family.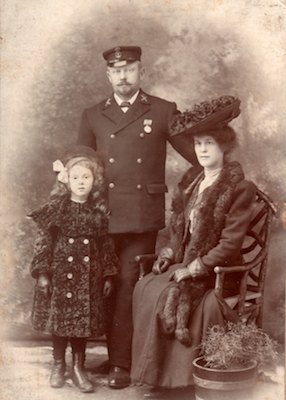 His last voyage with the Navy was aboard the Defiance, a boat he had served aboard several times previously, as a Chief Petty Officer. This voyage lasted from 2 June 1909 until 23 November 1909. He was shore pensioned on the 23 of October 1909,1 though I have a feeling that this date was supposed to read 23/11/09 to correspond to his return to shore. In another document, his daughter recorded William's pension date as 24 November 1909.2 I hope that further research will help firm up the exact date, but you can see the dates written on his service record in the following image:

After being shore pensioned he joined the Royal Fleet Reserve on 28 November 1909, receiving a full discharge on the 27 April 1910.
One month later, William, along with his wife Elizabeth Emma (née Farthing) and their daughter Rosemary, set sail for Canada on 27 May 1910, boarding the "Virginian" that departed Liverpool for Quebec, Canada and arrived in Canada on 3 Jun 1910.3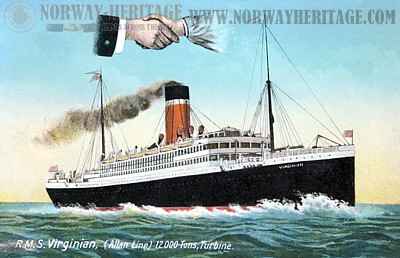 The passenger list shows William Chappell as age 40, married. Eliz Chappell was listed as 39, married. Their daughter Rosemary is listed as 8 years old.
What caught my attention was that William also stated as having previously been to Canada. The final column in the clipping shows that he declared he'd previously been in Canada in 1903, in Esquimalt, for 3 years. William was still serving in the Royal Navy at this time, and a little bit of research showed that Esquimalt, located on the southern tip of Vancouver Island, British Columbia, was used by the British Royal Navy as the headquarters of their Pacific Fleet during this period.4 Since William had previously been in Canada, he was marked as a returned Canadian.
Their destination listed on the passenger list is marked as Niagara Falls, Ontario, Canada.
Whilst my research has been unable to uncover a census entry for William and his family in the 1911 Canadian Census, the family does show up on the 1921 Census for Niagara Falls, Ontario.

William is listed William Chappell, head of house, 51 years old, born in Somerset, England, with both parents born in Somerset. He is listed as being occupied as a Lineman for Ontario Hydro.

Emma is listed as E. Emma Chappell, wife, 49 [still fibbing about her age], born in Wiltshire, England, father born in Zeals, England, mother born in Wiltshire, England. She was occupied at home.

Their daughter Rosemary is listed as Rose Chappell, born in Devon, England, father born in Somerset, and mother born in Wiltshire. She is employed as a clerk.

The family was enumerated as living at 29 Gladstone Avenue in Niagara Falls, Ontario, having immigrated in 1910.5
William found employment with Niagara Hydro soon after arriving in Canada, and he held a position with the company until he was pensioned in 1938 due to failing health.6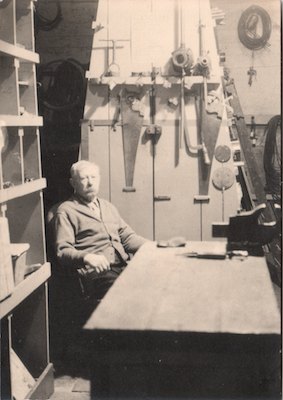 Copyright ©2014, Chriss Coleman